St. Thomas horses dominate at Ellis Thomas Downs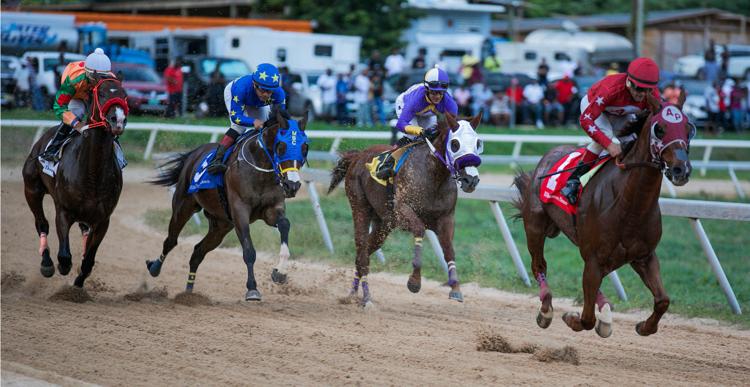 TORTOLA — St. Thomas' Arturo Watlington Stables completed its fourth victory in six races during Sunday's pre-Thanksgiving races at Ellis Thomas Downs, as Thulean nosed out early leader Totally Evil in the feature race.
Thulean's victory gave St. Thomas horses five wins in the six seven-furlong races held Sunday, which had more than two dozen horses competing for purses totaling $50,000.
"We did well. This is one of the best race days we've ever had," stable owner Arturo Watlington Jr. said after Thulean overhauled Totally Evil in the closing 1/16th mile to win by a nose.
"We went 4-for-4 and we ran the other one second. So, we did a good job, a very, very good job. I don't think anybody has won four races before."
Thulean, ridden by jockey Angel Moreno, won the $12,000 main event in 1 minute, 29.1 seconds. Tortola duo Salsa Jack and Courage And Honor duked it out before fading to third and fourth, respectively.
Moreno said he followed the instructions given by trainer Laquan Charleswell, and he knew Totally Evil was the fast horse and he followed him around after he took the lead from the gate.
"I tried to do the best I can and we got the job done," Moreno said. "At the top of the stretch, coming to the 16th I knew I had them then. My horse was running good and the track was holding good so that helped me a lot to do it."
Moreno opened Sunday's race card by guiding Wise Warrior to a successful debut victory in the $7,000 Class D non-winning horses feature in 1:31.4, with St. Thomas' God's Greatness, also making its race debut, made it a 1-2 finish. Tortola's Uncle Mace prevented a St. Thomas sweep in placing third, while Regionmdea, also of St. Thomas, was fourth, followed by Lil Fool.
"I'm feeling great and the people are taking good care of me," Moreno said. "We're having fun and we've won some races. Thank God for giving me the opportunity and the guy are working hard so it was a good day."
Preceding the main event, in the fifth race for Class B horses, the Tortola duo of One Way To Fame and Chovanes went at each other from the start, after both raced to a dead head in their last outing. However, St. Thomas' Barrabas Key laid off the pace in the $9,000 race early, then made its move on the backstretch.
By the top of the stretch, Barrabas Key had run past the duo, which faded badly, and went on to a convincing eight-lengths victory in 1:29.0.
"They told me let him run and if Chovanes want to take the lead let him, just sit back and make one run and that's what I did," Barrabas Key jockey Carlos Marquez said. "They went at it and I just sat perfect and I had a lot of horse and when I asked him, he just leveled off nicely. When I let him go, he ran away."
Jose Hernandez rode St. Thomas' Faster N Blazes to victory in the second race, the $7,000 for Class C&D horses, in 1:32.1. Freckle De Freak was second, edging St. Thomas' My Song Venezuelan. Nadiae's Image was fourth, holding off St. Thomas' No Luck.
St. Thomas' Puttingonashow took control on the backstretch in the third race, the $7,000 for Class B non-winners and Class C horses, by running past early leader Formal Talent for a three-lengths victory over St. Thomas counterpart Bit Growth.
Puttingonashow won in 1:30.2, with Hernandez in the irons for his second victory. My Running Mate completed a St. Thomas sweep. Formal Talent faded to fourth ahead of debutant WW Handsome.
In one of the most exciting races between Tortola horses, Special Counsel took control of the $8,000 race for mares and fillies from Holy Giacomo, then opened a lead heading off the top of the stretch.
However, the effort Special Counsel used to pass might have been too much, as jockey Carlos Marquez whipped Holy Giacomo back into the lead in the final furlong, sprinting past fading Special Counsel to win in 1:30.2.
Special Counsel held off the charging "Mariealena" for second, with Neverenuff D'Oro of St. Thomas took fourth.