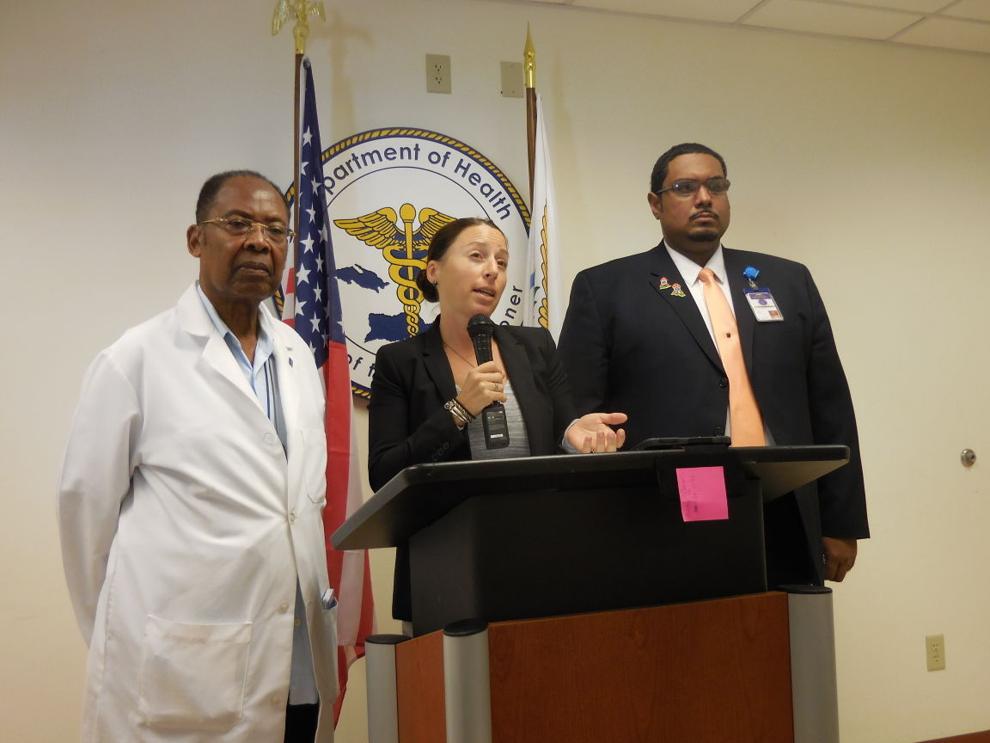 A case of Zika, a mosquito-borne virus that causes symptoms similar to dengue and is suspected to lead to birth defects, has been confirmed in the Virgin Islands.
The V.I. Health Department on Friday confirmed a case of Zika in a 42-year-old woman on St. Croix, after her lab tests came back positive from the CDC for the virus, according to territorial epidemiologist Esther Ellis.
However, the CDC has yet to issue its own confirmation.
"CDC is aware of the announcement by the U.S. Virgin Islands regarding its first case of Zika virus infection," according to CDC spokeswoman Erin Sykes. "CDC is working with USVI on this case and supports the Department of Health's recommendations that people protect themselves from mosquito bites. CDC has been asked to do laboratory testing on samples from the USVI patient, but test results are not yet available, and we therefore cannot confirm the case at this point."
The woman, a resident, had no history of previous travel during the incubation period of the virus, meaning that it was acquired locally, according to Ellis.
Health officials also said the woman was confirmed not to be pregnant. Zika is suspected of causing brain damage in more than 3,500 babies born in Brazil.
"A person with no travel history means they were bitten where they work, live, or play, which means it is locally acquired" said Ellis. "It means there are infected mosquitoes on St. Croix."
There currently are 14 additional suspected cases of Zika across the territory, although that number changes every hour, Ellis said. She could not confirm how many cases are suspected on each island.
The testing process takes about two weeks, and is based on a blood test that a medical provider will submit to the Health Department, which then sends that sample to the Centers for Disease Control and Prevention.
The Health Department is expecting to receive results from the other suspected cases over the next week, which will help to provide additional information as to whether or not we might have an outbreak, according to Ellis.
"It is hard to predict when we have just one case how long or if an outbreak will occur," Ellis said.
The carrier of the virus, the Aedes aegypti mosquito, is the same species that carries chikungunya and dengue fever, Ellis said.
The territory's past outbreak of chikungunya began as one case reported in June 2014 and spread to 34 percent of the population by November of that same year, as there was no previous immunity, according to Ellis.
However, Zika is harder to predict, particularly because the symptoms, which are far more mild than chikungunya or dengue symptoms, only present in one out of five people infected, she said.
"There is rash, fever and joint pain, usually lasting for about one week," Ellis said. "But there is no lasting joint pain, like with chikungunya. It is still mild for kids and infants. There has never been a death, which helps to put it in perspective."
Ellis said the main concern is the impact that the virus has on women who are pregnant or planning to become pregnant, as the virus currently is being investigated in Brazil for its potential to cause microcephaly, or decreased brain size, leading to mental deficiencies.
"Unfortunately we cannot speculate on how severe this may be in the USVI," said Sykes, deferring to local health officials. "Zika infection during pregnancy has been linked to birth defects, and there may also be a risk for a potentially paralyzing condition called Guillain-Barré syndrome."
The exact association between the virus and birth defects is unknown, although the potential led Centers for Disease Control to issue a Level 2 travel advisory informing pregnant women to consult with their medical providers before visiting areas where local transmission has been reported.
"Pregnant women should absolutely be concerned, as should women who are at risk of getting pregnant because of having unprotected sex," said St. Croix gynecologist and obstetrician Anne Treasure.
"There is even some talk that the virus can be spread through semen and spread through marital transmission as well as mosquito bites," said Treasure. "It's especially problematic. They bite him, they bite her. Partners need to be vigilant, as do all family members."
Treasure said the most crucial time for the fetus is during the first trimester, when the fetus is developing, and pregnant women should exercise caution by using repellent, wearing long sleeves, and judiciously avoiding mosquito bites throughout their pregnancies.
Treasure said at this point, there is no indication that pregnant women should leave the territory to avoid Zika, as it is a new virus and researchers are "still guessing" about its effects. However, microcephaly is a serious, and irreversible, condition, she said.
"It's going to be a huge challenge for the CDC and our local health services," she said.
"Studies are under way to better establish the relationship between Zika and GBS as well as Zika and microcephaly," said Pan American Health Organization spokeswoman Donna Eberwine-Villagrán. "We need to learn more about the virus and its consequences, and PAHO is working with its member countries and other partners, including the U.S. CDC, to promote research on this."
Zika virus is new to the Americas and is spreading rapidly for two main reasons — people in the region have not been exposed to it before, so they lack immunity to it; and the mosquito that carries the virus is present throughout almost every country in the Americas, according to Eberwine-Villagrán.
The Health Department has taken a "proactive approach" to educating the public about Zika by engaging in background research and communicating the risks and prevention methods for Zika through radio, television, newspaper, social media, and going out into the community, according to Acting Commissioner Juan Figueroa-Serville.
The V.I. Health Department has issued mosquito netting to maternal and child health clinics on island, and has hosted training and educational workshops for health care providers, said Deputy Health Commissioner Kimberly Jones.
Free netting is available for any pregnant woman at the St. Croix Charles Harwood Complex, the St. Thomas MCH Clinic across from Nisky Center and the Morris F. deCastro Clinic on St. John, Ellis said.
The department also is stepping up their "Fight the Bite" campaign, and distributed free mosquito bite prevention kits and information in the Luis Hospital lobby on Friday, Jones said.
Jones said spraying for mosquitos is one option the Health Department currently is considering, although this particular species tends to live indoors in dark, low places, and outdoor spraying does not necessarily target them.
"These are the kinds of mosquitoes that you see flying near your foot in the bathroom or buzzing around your ear at night," she said.
Jones said extra preventative measures in addition to applying DEET, picaridin, IR3535 or eucalyptus-based repellents include emptying standing water or purchasing "Mosquito dunks" or "mosquito bits," which are tablets that can be placed in standing water to kill mosquito larvae, Jones said.
Anyone who is concerned about abandoned cisterns or other reservoirs of standing water that can serve as breeding grounds for mosquitoes can call the Health Department's Environmental Health Division at 340-774-9000 or 340-718-1311, Jones said.
— Contact Ashley Mayrianne Jones at 340-714-9130 or email ajones@dailynews.vi.